HER NAME IS JOOLZ.
her game is poetry and her style is wild. Mixing poetry, comedy and music, she creates striking vignettes far away from most anything you've ever come across, rhythmic poem/ tales that yank you by the scruff of the neck and compel you to listen, to think, to understand.
JOOLZ
in performance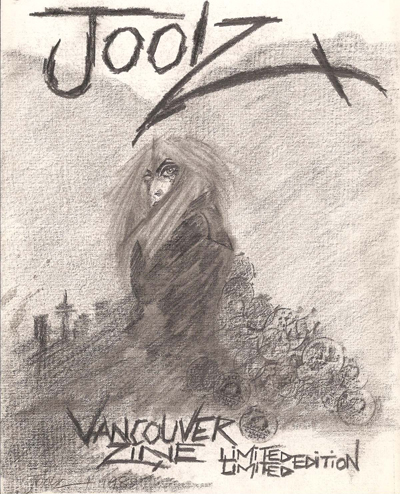 October 4 & 5, 1985
GANGLAND Studio
1715 Cook St.
Modern Music Video Cabaret
Doors open 9pm
Advance Tickets $8
Western Front, Zulu Records, Odyssey Imports
The Western Front and The Cutting Edge are pleased to present the North American debut of this unique London talent.
She is a performer, poet, comedienne, actress and recording artist. Her current performance is a blend of chatty, bitchy, english-style humour. Her poetry is brilliantly acted rather than just recited ... stories of everyday life, violence, drugs, betrayal, sex, politics, fear and love.
JOOLZ has that rare ability to make her audiences laugh and cry in every kind of venue, from working men's clubs to colleges, rock gigs to arts festivals, political rallies to discos.
GANGLAND studios will be transformed into a video cabaret premiering rare and unusual tapes from London.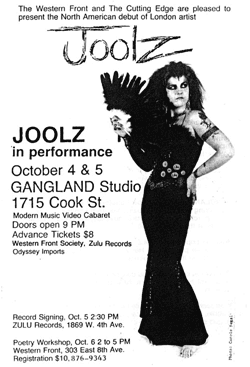 Rising in popularity, JOOLZ has graced the covers of numerous 'rock culture' publications. Her stunning performances are frequently featured in the 'style tabloids'
She has just completed a 30-date headline tour of Europe upon the release of her latest album 'NEVER NEVER LAND' on Abstract Records.
In addition she has collaborated with numerous artists Including Jah Wobble, The Specials, Musical Youth, John Cooper Clarke and has helped shape the rapid rise of cult rock group New Model Army.
Workshop: October 6, 1985
Joolz, rock poet, comedienne, performer and recording artist, will be doing a two-night performance in a cabaret-style setting at Gangland Studio. Closely associated with the 'rant poets' of Bradford, England (including Seething Wells, Slade the Leveller and Little Brother), Joolz has developed her own unique form of poetry which she describes as 'rock songs without music'. She has been referred to as the 'angry young woman of English poetry' as she deals with everyday issues of politics, rascism, violence, drugs, betrayal, sex, fear and love. Her style is chatty, bitchy and very funny. Her insights into the hopelessness of the English working class can be chilling, as in her recent poem on the miners' strike "At Dawn" and her poems written for the anti-heroin campaign.