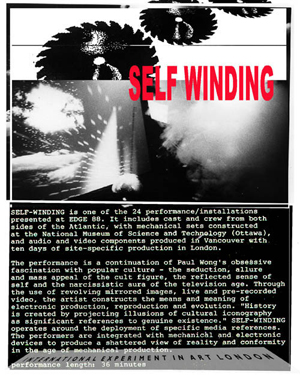 FOR IMMEDIATE RELEASE
AUGUST 9, 1988.
SELF WINDING A PERFORMANCE
SEPT. 23. 1988       
EDGE 88 FESTIVAL    
LONDON, ENGLAND
SELF WINDING by Paul Wong will be a site-specific performance at EDGE 88 - Britain's first international biennale of experimental art Sept. 13 - 25, 1988. SELF WINDING will be performed in a disused warehouse on Sept. 23, 1988 in the Clerkenwell district in London. Other artists sharing the warehouse will be Mona Hatoum, Stuart Brisley and Carolee Schneemann.
SELF WINDING is one of the 24 performance/installations that will be presented at EDGE 88. It will include cast and crew from both sides of the Atlantic, with mechanical sets constructed at the National  Museum of Science and Technology (Ottawa), audio and video components produced in Vancouver and 10 days of site-specific production in London.
The performance will be a continuation of Paul Wong's obsessive fascination with popular culture - the seduction, allure and mass appeal of the cult figure, the reflected sense of self and the narcissistic aura of the television age. Through the use of revolving mirrored images, live and pre-recorded video, the artist will construct the means and meaning of electronic production, reproduction and evolution. "History is created by projecting illusions of cultural iconography as significant references to genuine existence." SELF WINDING will operate around the deployment of specific media references. The performers will be integrated with mechanical and electronic devices to produce a shattered view of reality and conformity in the age of mechanical reproduction.
DIRECTOR: PAUL WONG
PRODUCTION MANAGER: ELSPETH SAGE 
SITE COORDINATOR: COLIN GRIFFITHS
DEVICES: DAVID JACKSON
VISUALS: JOE SARAHAN
STAGE MANAGER: SUSIE MILNE
COMPOSER: STEPHEN ROSEN
PERFORMERS

Sean Conrad Dower - martial artist (#2)
Carole Jackson - female twin
Christine Jackson - female twin
Paul Jones - opera singer
Tom Radcliffe - martial artist (#2)
Kumiko Shimizu - Red Guard
Georgia Varjas - saxophonist/dancer
Guy Waddell - male twin
Mark Waddell - male twin


PRODUCTION PERSONNEL

Daina Augaitis (Banff)
Tara Babel (London)
Steve Collins (Newcastle)
Laurence Counter (Cornwall)
Sean Dower (London)
Bruce Gilchrist (London)
Colin Griffiths (Banff)
Oliver Hardt (Giessen)
Mona Hatoum (London)
Kirsten Herkenrath (Giessen)
David Jackson (Vancouver)
William James (London)
John Jordan (Sheffield)
Attila Lukacs (Berlin)
Susi Milne (Vancouver)
Tom Radcliffe (London)
Chick Rice (Vancouver)
Stephen Rossin (Vancouver)
Paddy Ryan (London)
Elspeth Sage (Vancouver)
Joe Sarahan (Vancouver)
Jason Skeet (Stoke-on-Trent)
Guy Waddell (Stoke-on-Trent)
Mark Waddell (Oxted)
Jeff Ward (Stoke-on-Trent)
Sally Whitman (London)
Steve Williams (London)
Andrew Wilson (London)
Thomi Wroblewski (London)



SELF WINDING is a special project of ON THE CUTTING EDGE PRODUCTIONS SOCIETY. For further information regarding performance/festival details:
CONTACT:
EDGE 88
Air Gallery,
6-8 Rosebery Avenue,
London, EC1R 4TD ENGLAND

PROJECT DEVELOPED BY THE NATIONAL MUSEUM OF SCIENCE AND TECHNOLOGY (OTTAWA).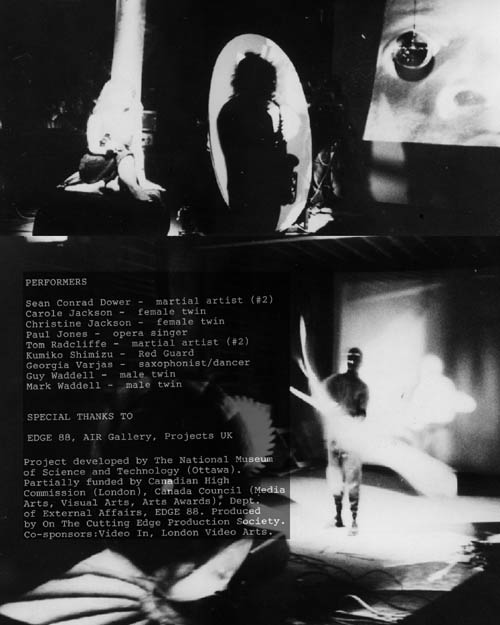 PARTIALLY FUNDED BY CANADIAN HIGH COMMISSION (LONDON), CANADA COUNCIL (MEDIA ARTS, VISUAL ARTS & ARTS AWARDS), DEPARTMENT OF EXTERNAL AFFAIRS, EDGE 88, B.C. CULTURAL FUND.
PRODUCED BY ON THE CUTTING EDGE PRODUCTION SOCIETY.
CO-SPONSORS: VIDEO IN (VANCOUVER) AND LVA (LONDON VIDEO ARTS)