Stealing to Subvert
Curated by Maija Martin & Winston Xin
Presented by On Edge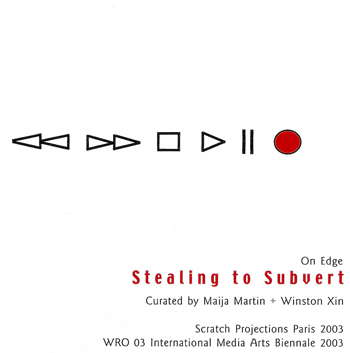 I began curating through politically activism and involvement in community groups. In 1993, after finishing a four year program in Media Arts at Ryerson, I moved to Vancouver and became involved with Out On Screen: Vancouver's Queer Film & Video Festival. The festival was in a transitional state. The organizers of the Festival were burnt out from five years of exhaustive volunteering and a new group, consisting of artists and activists, took hold of the organization. This new group, enthusiastic for change, swept away and inspired by the promises of early nineties Identity politics fundamentally changed the Festival.
Although I began programming with this organization, the lasting impression will always be the countless debates. We debated about queer issues and queer representation. We debated about issues around outreach, inclusion, and equity. We argued about what constituted Queer Art. Between debates, we sat through countless workshops: Combating Racism, Conflict Resolutions, and Equity in Organizations. We were equal parts political activists mixed with Oprah-age confessional therapy group. In short, we were a collective armed with a new Mission Statement and Mandate. We made the venues wheel-chair accessible. We made child-care subsidies mandatory. We had ASL (American Sign Language) interpreters when requested. We programmed work that was experimental and challenging. Although amusing in retrospect, involvement with this group formed the basis of my curatorial interests and practice - the exploration of culture, race, sexuality, and the relationship between art and communities.
In 1994, I became involved with the artist-run video centre, Video In Studios. What attracted me to this Centre was the impressive body of work around issues of race and representation, of gender and sexuality, at the same time, being truly experimental and cutting-edge. Issues of equity and inclusion were also evident on the organizational level. The works of Paul Wong, Zachery Longboy, and Lorna Boschman are but a few of the artists who inspired me to be part of this exciting place. Through their massive tape library, I began to immerse myself in the history of video art and activism.
From 1996-2000, I was the Video In Program Coordinator and Programmer. In this next stage of my curatorial development, I had the freedom to put many of the issues first explored with Out On Screen, into practice. Video In was a crash course in curating, providing me with administrative skills but no formal guidance or training. I mounted over 30 programs per year. I was responsible for: curating, facilitating, & coordinating video screenings, artists' talks, visiting artists, media installations, and media performances. I was the principal liaison with artists and curators and oversaw the promotional materials and event coordination. I also wrote the short program notes with tape descriptions and press releases. Like many artists-run centres across Canada, Video In ran on a very tight budget. I had to learn to be resourceful, spontaneous and imaginative with both the programming and the budget. Nevertheless, we produced successful programs with strong attendance.
My programming and curatorial focus while at Video In was an extension of the work that was laid out while at Out On Screen. The Video In programs were mainly centered on the exhibition of Canadian video art and in creating a space for culturally diverse audiences. This involved building joint projects with other arts and community groups, interested in the intersection between media art, politics and culture. Groups included were: ASIA (Asian Society for the Intervention of AIDS), Asian Heritage Month, AIDS Vancouver, Black History Month Vancouver, YouthCO (Gay, Lesbian, Bi &Transgender Youth), GIFTs (Galiano Island Film & Television), Out On Screen, grunt gallery and Western Front.
In 1994, I became involved with a group of Asian artists and cultural workers and we founded, Asian Heritage Month Vancouver - a month long Asian Arts and Culture Festival that takes place every May. Although Out On Screen and Video In were outlets for my queer and artistic side, the work with Asian Heritage fulfilled my need to engage with others from my own cultural background and with the larger Asian communities.
Choice of Host Organization
Out On Screen laid the theoretical ground work and Video In gave me the opportunities to explore and experiment. I am basically 'self-taught' in the area of media arts curating. There were no mentors. Also, my curatorial background to date has been based primarily in Vancouver. Aside from producing short program notes and tapes descriptions, I have not produced nor written a catalogue for an exhibition. This grant will provide me with the opportunities to: work with experienced curators, to become involved with mounting an international exhibition, and time for curatorial research and investigation - a luxury which was often forfeited during my time at Video In due to the tremendous amount of programming.
On Edge's past and ongoing work in culturally diverse programming and exhibition is a continual source of influence and inspiration for me. They have produced catalogues and exhibitions on a national and international scale, such as Yellow Peril: Reconsidered (1990-91); Feng Shui touring show and catalogue (1993-94); Temple of My Familiar, site-specific installation (1994) by Nhan Duc Nguyen; Jazz Slave Ships, Witness, I Burn, a site-specific performance collaboration by Jan Wade and Vanessa Richards (1996); Walas-Kwis-Gila performance, exhibition and videotape of David Neel's work for the 1999 Venice Biennale and most recently their Internet projects www.onedgeonline.com and www.cyberartsite.net.
They have presented cross-cultural exchanges and contributed significantly to critical dialogue through their exhibitions and catalogues. On Edge looks beyond established mainstream 'avant garde' trends, and their commitment to works from the margins is strong and consistent. Their curatorial focus is very much in line with what I was beginning to explore while curating at Video In and Out On Screen, that of art, politics and culture. In this case, there is an appropriate 'match' between my goals and those of the institutional mandate of the host center, making On Edge a natural choice for me. I am confident that they would provide me with the mentorship and guidance that I need to advance my curatorial and writing career.
Winston Xin