Centrifugal Vision:  Video Circle
Vancouver Museum – May 1 – 14, 2003.
1100 Chestnut Street, Vancouver, B.C.
An international exhibition of 3-minute video tapes by 108 artists from 12 cities in 8 Asia Pacific countries: CHINA: Beijing, Shanghai, Shenzhen, Hong Kong, Macau; TAIWAN: Taipei; SINGAPORE; JAPAN: Tokyo; THAILAND: Bangkok; PHILIPPINES: Manila; KOREA: Seoul; and CANADA: Vancouver.
The exhibition was organized into six programs with over 5 hours of original video art. The six Vancouver artists were Winston Xin, Kira Wu, Dana Claxton, Wayne Yung, Paul Wong and Mo-Ling Chui.
This exhibition brought together an extraordinary collection of three minute tapes representing a wide range of artistic approaches to using the video medium for creative expression. Curators solicited a diverse mix of contributors from performance artists, graphic designers, filmmakers, conceptual artists, theatre directors, youth groups, emerging to established visual artists.
The concept of Video Circle was originated by Zuni (Hong Kong) as a structure for promoting artistic collaboration and cultural exchange amongst and between city centers and countries. Centrifugal Vision was produced by Hong Kong University of Science & Technology Center For The Arts and presented in Vancouver by On Edge Productions during Asian Heritage Month in Vancouver.
Centrifugal Vision: Video Circle represents the dynamic creative spirit of new art in contemporary Asia and here in Canada.
We saw this project as part of our ongoing programming to present new and innovative work by Asian Canadian artists. We also saw this project as strengthening our ties with producers in Hong Kong and the Asia Pacific region. We were very pleased to be working with Asian Heritage Month again and pleased also to develop a new relationship with The Vancouver Museum. Placing this exhibition at the Museum introduced this type of work to a whole new audience. Hundreds of people saw the installation over a two-week period.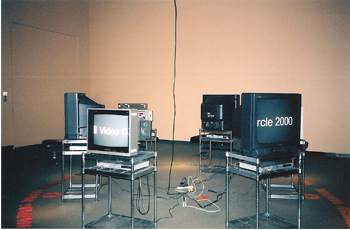 Presenting contemporary art in a 'museum' context is obviously a novel concept as evidenced by the comments that our contact at the Museum received from fellow staffers and the public. It also resulted in a telephone interview with Canadian Art in Toronto who were very surprised to hear of a video installation at The Vancouver Museum. We had the circle of monitors just outside of one of the galleries featuring North West Coast baskets. In some ways, it seemed quite fitting. In fact, the Museum staff said that our exhibition was extremely popular with the school groups that came through and the Museum used it as a lure to get the kids into the other exhibits.
We had our exhibition featured on CBC Radio 3's website and we had a feature interview with the Vancouver curator of our show Paul Wong on the evening news on City Pulse (channel 13 in Vancouver) on Tuesday, May 6, 2003.