On Edge presented the long-awaited Vancouver premiere of CONFUSED: SEXUAL VIEWS at Graceland cabaret Nov. 30-Dec. 1, 1986.
Director: Paul Wong
Producers: Gary Bourgeois, Gina Daniels,
Jeanette Reinhardt, Paul Wong
The Confused trilogy of performance, installation and video production is Canada's most famous and influential work of video art. It is now considered a seminal work of its time, one that has had tremendous impact on the development and validation of the medium as an important art form.
The central theme exploring bisexuality, combined with experimental uses of the medium blurring the distinction between documentary and fiction, proved to be way too radical for the conservation art and telecommunication worlds. Confused was produced to challenge the growing movements to censor independent film and video productions by attempting to produce new alternative forms of sexual representation. Confused exploded into a national controversy around freedom of speech, creative expression, form and content, the electronic revolution, sexual orientation, private and public rights.
The controversy was started by the Vancouver Art Gallery, which panicked and cancelled the exhibition three days before its opening in February 1984. Confused: Sexual Views had been commissioned by the gallery as the inaugural show for the new video space when the gallery moved to its present location in 1983. The rest is history - it played out in the media, street demonstrations, boardrooms, annual general meetings, hirings/firings and in a precedent setting court room drama that dragged on for several years.
The end result was that we fought the law and lost, but fighting the good fight was a major moral victory that has had wide-spread impact in the anti-censorship movement.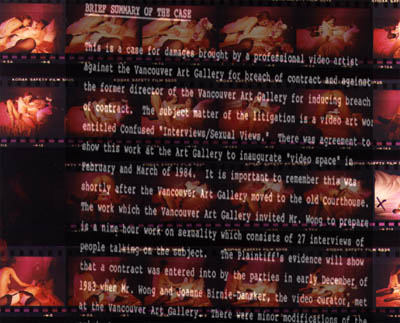 ON EDGE grew out of the PAUL WONG DEFENSE COMMITTEE which was originally set up to defend CONFUSED in the public domain and to assist with planning the lawsuit. The case generated enormous public and media interests. There were boycotts of the gallery, petitions, demonstrations, threats, abuse, investigations, libel, and mounting legal costs.
This was during the heyday of Thatcherism and Reaganomics, the Moral Majority , the home video porn revolution, and the first years of the AIDS pandemic. All of these social conditions created a certain amount of hysteria about sex. The Paul Wong Defense Committee became freedom fighters against all forms of censorship. Confused created severe rifts in the community, those pro and con censorship. The established order, including many museum, public galleries, and funding agencies stayed clear of Wong and others or anything that might attract controversy. ON EDGE was set up to do independent programming and to support work that had a social, political and creative edge. In fact, we set out to present the work that the establishment was so very afraid of.
The CONFUSED Trilogy
Confused: The Performance was the only sold out event at VIDEO CULTURE, Sony's first international electronic arts festival held in Toronto in the summer of 1983. A live stage event was produced as a way to contravene the then Ontario government's hard line attempts to control all public presentation of video and film works. The performance included large scale projections of live and recorded materials. The narrative followed the bisexual romps of two couples, and was experimental in form and content. (1 hour)
Confused Sexual Views is a video installation based on the interviews of twenty seven subjects. Sexual Views is a non-fiction work (9 hours, 27 tapes)
Confused: The Videotape is a dramatic narrative. (52 minutes)