HUNGRY GHOSTS        
BIOS

PAUL WONG is a multi-disciplinary artist best known for his media art and live art projects. He is self-taught and has been exhibiting videotapes, installations, photographs, performances and writing since the 1970's. Born in Canada his works often address his cross-cultural influences of being Chinese and Canadian.
His work is influenced by, and is also a critique of, mass media and pop culture. He is an artist who uses electronic media to record and reflect the environment around him, which has included the lives of his friends and family. Over the past 1/4 century his work has reflected his acute curiosity about the world we live in. This has included being angry and young, beauty and innocence, love and desire, hate and violence, lucidity and confusion, sexuality, race, social injustice, decadence and death.
He produces and presents work for a variety of contexts from community forums to major international art exhibitions, film festivals, performance and new media events. Recent projects have included several Internet project: NO CAM NO TALK, (Western Front, Vancouver); EAT (horizonzero.ca) and HABITUATION CAGE codezebra.net at the Dutch Electronic Arts Festival.
He has created works for prime time television including the CLASS OF 2000, I AM A REFUGEE, a series of ads commissioned by the Canadian Race Relations Foundation; RE-ACT - a multimedia publication. Re-Act is a critical anthology of his performance art projects from 1974 – 2000 and SMASH produced for Europride 2002 a one-hour program, remixing selected scenes from works on sex.
In 1995, the National Gallery of Canada presented ON BECOMING A MAN - a solo exhibition of a dozen videotapes and installations. In 2002 the Vancouver Art Gallery presented PAUL WONG FROM THE COLLECTION. This exhibition of photoworks, tapes and video installations included the seminal CONFUSED: SEXUAL VIEWS, banned by the VAG in 1984.
His projects are exhibited and collected internationally including the Museum of Modern Art in New York. He has been presented in Museums, Institutes, Centers of Modern and Contemporary Art in Paris, London, Hong Kong, and Lisbon. More frequently his work is presented at temporary sites, abandoned warehouses, clubs, cabarets and malls in off center locations from Belfast, Shenzhen, Regina, Taipei, Halifax to Newcastle.
Wong has survived countless incidents of censorship and controversy and continues to be on the frontline of new art. He is a media art pioneer and the recipient of the 1992 Bell Canada Award for Video Art. In 2002 he was given the Asian Heritage Transforming Award for his influence as a mentor and in 2003 he was the given a prestigious new National Film Board of Canada TRAILBLAZER EXPRESSIONS Award in recognition for his strong leadership in the area of diversity and culture.
He is also well known for his curatorial, cultural consultancy and community art projects. He is a regular participant at national symposiums and international conferences on art and culture. He is a past member of the Canada Council Media Arts Committee, a founding member and current vice president of Video In Studio, a leading exhibition, production and distribution center for experimental video and independent media in Vancouver. He is also a founding director of On Edge Productions.
Paul Wong was born in Prince Rupert, British Columbia in 1955, lives and works in Vancouver, Canada.
His videotapes are distributed by VTape, Toronto, Art Metropole, Toronto, Video Out, Vancouver. Prints are available from Open Studio, Toronto.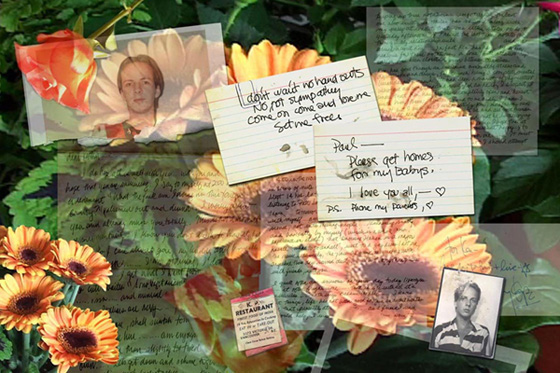 ELSPETH SAGE is a co-founding director of On Edge, curator, writer, producer and arts critic. Her articles have appeared in Video Guide, Impulse, Vanguard, FUSE, V Magazine, Media Arts, Parallelogramme, HARBOUR Magazine, CIRCA, FRONT and Artists' Newsletter. Past exhibitions have included Feng Shui, Auslander Video, Temple of My Familiar and Walas Kwis Gila at the Venice Biennale in June 1999.
ON EDGE was formed in 1985 to produce, present and promote art that was marginalized due to its political, social or artistic form and content. We are interested in the popular forms such as the media arts. We produce live events, exhibitions, visiting artists, performances and workshops. Our focus is cross-cultural work that challenges ideas and attitudes of what constitutes art.  Past projects are Yellow Peril: Reconsidered; Self-Winding; Feng Shui; Auslander Video; Temple of My Familiar; Jazz Slave Ships, Walas Kwis Gila and Centrifugal Vision: Video Circle.
NUOVA ICONA is a non-commercial organization dedicated to the realization of contemporary visual art projects in Venice, Italy. Under the artistic direction of Vittorio Urbani, Nuova Icona has held 132 shows and published 70 catalogues since it was formed in 1993. For five editions of the Venice Biennale, Nuova Icona organized the official participation of Ireland. Nuova Icona is committed to producing contemporary art exhibitions within the somewhat stifling confines of Venice's immense cultural past. Amidst the Titians and the Tintorettos, Nuova Icona offers a refreshing new way to view art in Venice.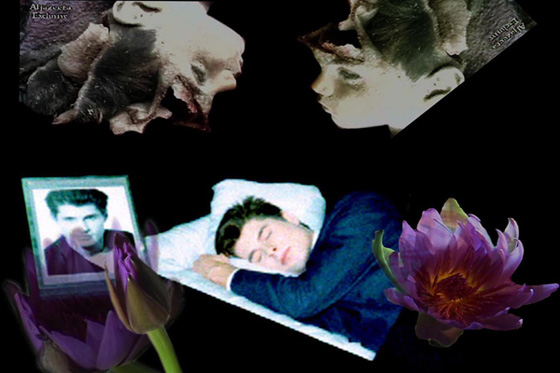 PRODUCERS
On Edge
4334 Quebec St.,
Vancouver, B.C. V5V 3L3
CANADA
Tel/Fax: (604) 872-1666
e-mail: onedge@shaw.ca    
Nuova Icona
Giudecca 454 
30133 Venezia
tel.e fax. 041-5210101     
email nuovaicona@iol.it
Collaborator:  Neutral Ground, Regina
Website: Art Engine, Ottawa
Soundtrack: Paddy Ryan
Video Production: Winston Xin, Rafael Tsuchida, Paddy Ryan, Video In
Venice Crew: Camilla Seibezzi, Massimo Ongaro, Paddy Ryan, Lesley Ewen
Thanks to: Daina Augaitis and The Flower Factory. 
www.hungryghosts.net (launch date: June 12, 2003)
This one is for you Virginia. I miss you.
Virginia Wong 1952 - 1995
HUNGRY GHOSTS is a work that includes new, used and remixed materials from projects spanning two decades. These projects have involved the collaborations of several hundred participants, individuals, agencies and organizations. A special thank-you to all the past and present artists, designers, editors, composers, writers, administrators, managers, actors, musicians and curators for your support. You all know who you are. The journey continues.
Paul Wong, June 2003
Funded by The Canada Council (Visual + Media Arts), Department of Foreign Affairs, the Canadian Embassy in Rome and the BC Arts Council.
All rights reserved. On Edge, 2003.